Workshop Series 2017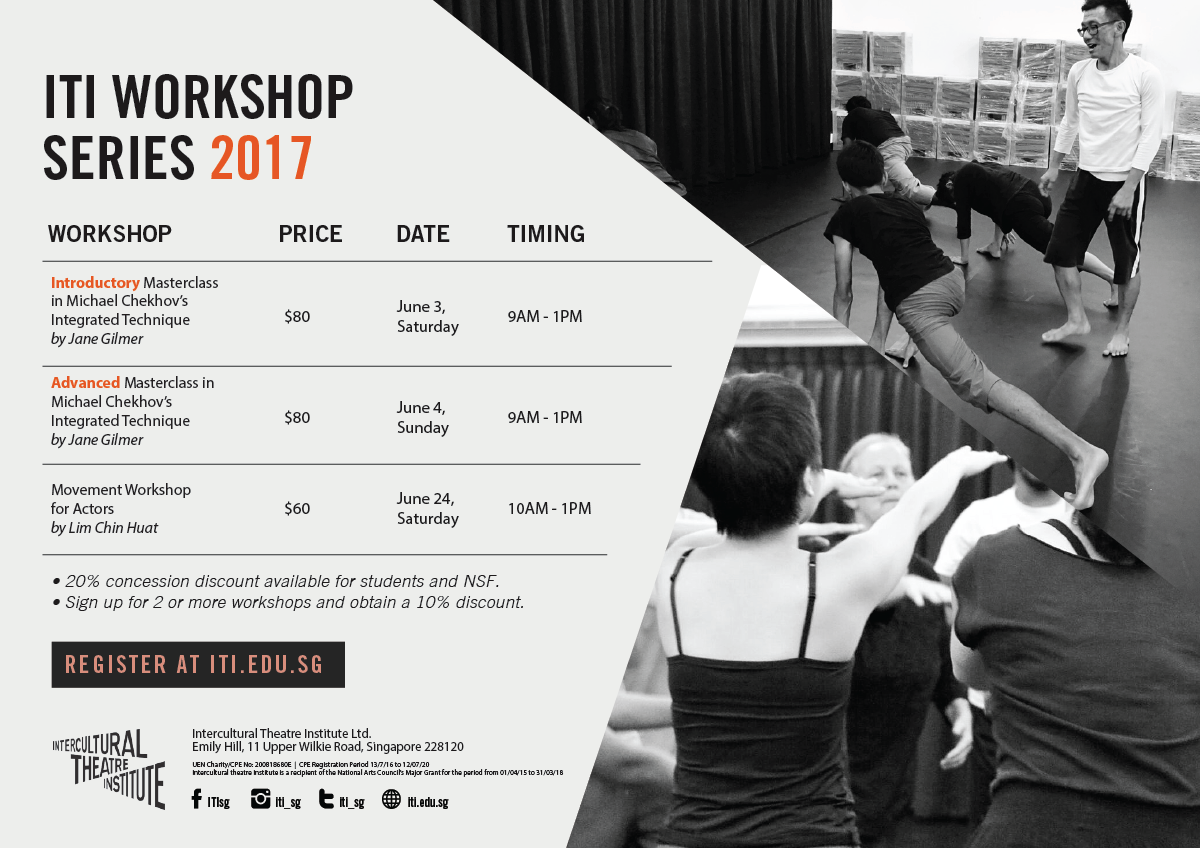 MASTERCLASS IN MICHAEL CHEKHOV'S INTEGRATED TECHNIQUE (FULLY BOOKED)
Introductory masterclass: Saturday 3 June 2017, 9am – 1pm (fully booked)
Advanced masterclass: Sunday 4 June 2017, 9am – 1pm (fully booked)
To join the waiting list, contact azura@iti.edu.sg
Michael Chekhov was acknowledged by Stanislavsky as his most brilliant student.  However, contrary to Stanislavsky, he maintained that reliance upon an actor's personal life history and emotional experience was far too limiting, and so he developed a training technique based upon working with images. In his book To The Actor, he states: "To develop a Theatre of the Future, actors will need to develop their Imaginations far beyond the actor training usual at the time."
In his preparation towards what he termed "inspired acting" and "future theatre", he emphasises training the imagination through Psycho-Physical exercises that use physical and speech gesture. These exercises provide the actor with a simple and practical means for calling up energy and emotions, while joining the actor's psychology, body and voice with the unique character he or she is bringing to life.
In this Masterclass, we will explore Chekhov's psycho-physical exercises, with a view to progressing your technique as an actor of future theatre.
The introductory masterclass is suitable for those with no prior experience with Chekhov's psycho-physical exercises.
The advanced masterclass is suitable for those with prior experience with Chekhov's integrated technique, as we will explore Chekhov's integrated technique in greater depth
Participants should be at least 18 years old, with basic experience in acting.
Maximum number: 20
About the teacher
Jane Gilmer is a full-time faculty member of ITI, where she teaches Acting. She is an experienced performer, teacher and director of theatre. She trained in the speech and drama techniques of Rudolf Steiner infused with the work of Michael Chekhov, at the Harkness Studio Sydney in the 1980s. Born in New Zealand, she has lived and worked with theatre internationally for most of her life. Most recently she spent the past 10 years teaching theatre in Singapore and lecturing at the National Institute of Education, NTU. In 2008, Jane attained a diploma in Holistic Psychotherapy to deepen her pedagogical approach to teaching theatre. Her studies include the in-depth psychological work of C. G. Jung, particularly his work in psychological alchemy, and how this might be aligned with Steiner's indications on Speech and Drama and Michael Chekhov's theatre technique.
---
MOVEMENT WORKSHOP FOR ACTORS
Saturday 24 June 2017, 10am – 1pm
The Movement Workshop for Actors will focus on building fundamental skills in body movement and gaining an understanding of the body for theatre training.
Participants will be guided in essential elements of movement for practical application, from body coordination and conditioning to core strengthening and joint relaxation.
Delivered through group exercises and partner work, participants will experience what a movement class at ITI is like.
Suitable for all levels of acting experience.
Participants should be at least 17 years old.
Maximum number: 20
About the teacher
Lim Chin Huat is a full-time faculty member of ITI, where he teaches Movement. Chin Huat is also a cross-disciplinary artist who has over two decades of experience in capacities as visual artist, performer, dancer, choreographer, costume designer, facilitator and educator.
Some of his signature and collaborative works were seen and presented in Singapore Arts Festival, Belgrade International Theatre Festival, Vienna Arts Festival's Asia Village, Festival of Asia (New Zealand), Asia Interaction (Indonesia), Actor Studio at Kuala Lumpur, Beijing's Chaoyang Cultural Centre, Esplanade Raw Series, Gardens by The Bay Opening, Mercedes-Benz Asia Fashion Award, Artwine Festival, Singapore River Festival, MediaCorp Star Awards, Asian Civilisation Museum and others.
Chin Huat is a recipient of the Young Artist Award (2000), and a nominee for the Spirit of Enterprise Award (2004).