Final Year Individual Project 2020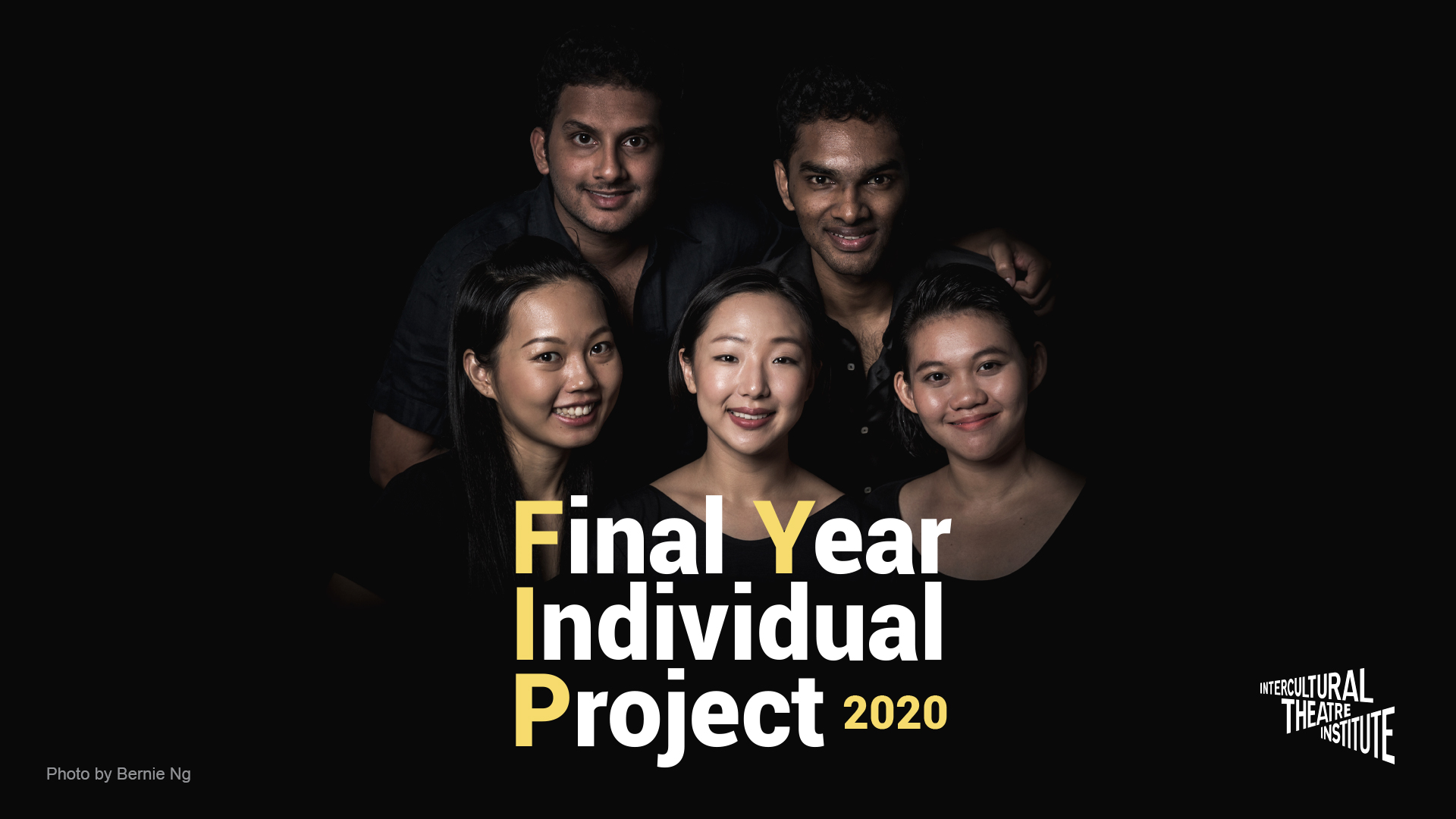 Original works conceived and performed by ITI's graduands.
The Final Year Individual Project (FYiP) project is a critical and integral aspect of Intercultural Theatre Institute's actor training programme. This is a project that the student begins thinking about, preparing and planning from the moment they start training at ITI. Combining the objectives of a performance with the exploratory intentions of a creative platform, FYiP is each student's search for their own voice in performance.


---
Asymptote
By Kyongsu Kathy Han
A woman,
is having trouble remembering how she came to be.  
Therefore, she doesn't know where she will go.
She traces back.
She traces forward.
She tries to go straight.
She curves.

Performed in English with some Korean
Confession 
By Rhian Hiew Khai Chin
Her mother's identity has influenced her profoundly.
She doesn't want to follow in her mother's footsteps and become someone's mistress, but she faces a dilemma, struggling to control her desires and reconcile them with her faith and beliefs.

Performed in Mandarin and English
Advisory: Coarse language
What Is It For You?
By Ramith Ramesh

There are hundreds of answers to the question "What is black?" Black is a colour, it is an emotion, and some people have decided that it is a religious caste. What is it really?

Put aside all the facts about black that you have heard, and think about it: what does it mean to you?

What is black as a human? 
What is the meaning of black in a society?
What is the power of black in the world?
What is it for you?

Advisory: Mature themes and coarse language

That's How I Saw Her.
By Prajith K Prasad
I was drunk and walking alone on the streets, not knowing where I was going. As I was walking, I realised I was near the sea, so I walked towards the ocean. There was an old man sitting there who said to me, "It's hell out here, isn't it? To live is to suffer." I just nodded and moved along. I had a thought as soon as I passed him: "The sun burns out; the entire cosmos, the universe is going to vanish. What makes life worth living when you know everything is going to end? It's a very good question."

Advisory: Coarse language
囚 (qiú)-A Human in a Square
By Li-chuan Lin (a.k.a. Aki)

The length is 3m, the width is 2m, and the height is 3m. This is my room.
It's small. It is like a matchbox that is stuffed into a crack of a giant storeroom.
And I am a little speck of dust in the matchbox.
Each person stays in one room.
Every person becomes an isolated island.
And each island imprisons every single person.
You said you want to escape from here. But...
Where can you go... and how?

Performed in English, Mandarin, Taiwanese Hokkien and Hakka
About the 2020 cohort
Kyongsu Kathy Han 

Kyongsu Kathy Han is a versatile performer-practitioner. She is classically trained in ballet and holds a BA (Hons) in Acting from LASALLE College of the Arts.
Her body of work includes theatre for young audiences, musicals, opera, dance and film. She has worked with local companies such as Cake Theatrical Productions and The Finger Players. She made her directorial debut in 2018 with Dialogues des Carmelites, and has choreographed for New Opera Singapore. International collaborations include The Revolutionary Model Play 2.0 (Théatre du Rêve Expérimental / Singapore International Festival of the Arts 2015) directed by Wang Chong from Beijing, China.
Being multiracial and trilingual, Kyongsu has always been drawn to complexities, specifically in theatre. To further expand as a multidisciplinary artist, she trains in the martial art Ninjutsu at Bujinkan Ryuko Dojo, and in Odissi at Chowk.
When not on stage, Kyongsu teaches. She has coached dance and theatre in various schools such as Soul of Art Academy, and most recently the theatre club of Temasek Hall at National University of Singapore.
Kyongsu is a recipient of the Tan Chay Bing Education Fund Scholarship and a beneficiary of the Möbius Fund, which provides loans for actor-students.
Li-Chuan Lin (a.k.a. Aki)
Aki is from Pingtung, Taiwan. Her theatre experience includes the role of Jill in Equus (Spring Wind Theatre), Min-min in A World that is Ignored《看不見的視界》(68 Theatre), and theatre for children with Happy Bird Story Theatre. She also worked as a primary school art and theatre teacher before coming to ITI.
Aki's artistic journey began at a young age when she learned to play the piano and paint, inspired by the artistic interests of her grandmothers and her mother. She holds a Bachelor of Social Science in Multicultural and Linguistic Studies from Tamkang University.
In the future, Aki hopes to work as an actor and arts educator, and bring the arts to every corner of the country.
Prajith K Prasad
Prajith K Prasad is from Trivandrum, Kerala. He began doing theatre, music and dance while in school, and has worked as an actor with Abhinaya Theatre Research Centre (India), Moon Fool (UK) and MA Company (Germany). He has also participated in several theatre festivals in India, including the International Theatre Festival of Kerala and Soorya Theatre Festival.
Prajith trained under Anna-Helena McLean (Gardzienice, Poland) and Ando Tomoko (ARICA, Japan), and was a participant in Play Practice international dance residency (Bangalore, India). He holds a BA in English Literature from Kerala University.
Prajith is a beneficiary of the Möbius Fund.
Ramith Ramesh 
Ramith Ramesh is a Kutiyattam practitioner, theatre actor, drummer and poet from Kerala. He has been active in the arts for 17 years.
From 2008 to 2016, Ramith trained at Kerala Kalamandalam, studying up to undergraduate level in Kutiyattam, Chakyarkoothu and Sanskrit under renowned master teachers such as Padmasree Sivan Namboodiri and Guru Rama Chakyar.
His theatre experience includes work with Ariane Mnouchkine in 2016. He has also worked on two short films as assistant director. To hone his skills as a performer and further his training in traditional and contemporary theatre, Ramith decided to come to ITI.
As a Kutiyattam and Chakyarkoothu performer, Ramith has presented over 250 performances across India, France and Singapore, including at major national festivals such as Nila Dance and Music Festival, Shimoga Festival, Kerala Sangeetha Nataka Academy Festival, Parinithy Festival and Yoga Parv. He has taught Kutiyattam in several theatre companies in India, and has been a judge on the panel for Kerala's state arts festivals for five years.
Ramith's awards include the Achutha Kurup Endowment for being the top Kutiyattam student at Kerala Kalamandalam (2012–2013) and the title of Natyasri for his dedication in promoting Kutiyattam (2017), as well as national awards Natya Sreshta Puraskar and Natwar Gopalakrishna (2017).
Ramith is a recipient of a scholarship sponsored by a private philanthropist and a beneficiary of the Möbius Fund.
Rhian Hiew Khai Chin 
Rhian Hiew Khai Chin is an actor from Kota Kinabalu in Sabah, Malaysia. She performed in Pitapat Theatre's production An Enemy of the People.At the Moment in 2015, and collaborated with ITI alumni on Pitapat Theatre's site-specific production Theatre in Hotel in 2019, where she performed her original work, The One When He Was Late.
In 2019, Rhian facilitated improvisation workshops with Kasing Sining theatre group in the Philippines and Aaakar theatre group in Allahabad, India.
After graduation, Rhian plans to work in community theatre in Sabah and collaborate regionally with her cohort and other ITI alumni. She also plans to continue her own training and research as a performer and theatre-maker.
Rhian is a recipient of the Tan Chay Bing Education Fund Scholarship and a beneficiary of the Möbius Fund. 

DOWNLOAD PROGRAMME