Felimon Blanco
---
COUNTRY Philippines
YEAR OF GRADUATION 2005
CURRENTLY BASED IN Philippines
---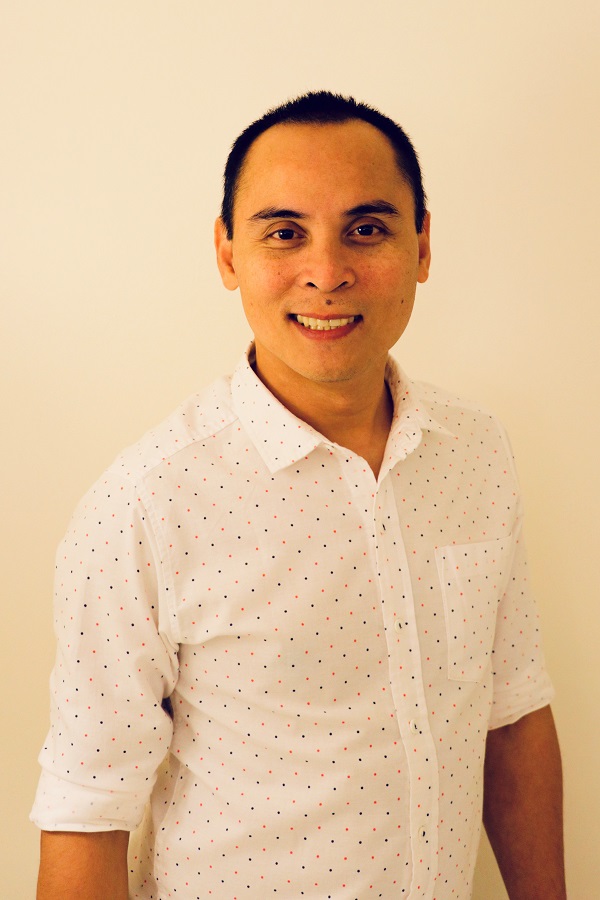 Felimon is the Founding Artistic Director of Teatro Guindegan, the Resident Theatre Company of La Salle University, Ozamiz City. From 2008-2013 and 2017-2019, Felimon also served as Mindanao representative to the National Committee on Dramatic Arts, part of the National Commission for Culture and the Arts (NCCA) – a national policy-making body of theatre leaders and practitioners from across Philippines. Prior to that, from 2007-2010, he was the Provincial Artistic Director-Designate of the Zamboanga del Sur Provincial Tourism, Culture and Arts Office, in charge of developing cultural and arts programmes for the province.
Aside from appointments, Felimon's notable artistic involvements were in Uwahig by the Integrated Performing Arts Guild (IPAG) in 2006. The play premiered at the UNESCO-International Theatre Institute's 31st Theatre Olympics of the Nations in Manila in May 2006 and featured again at the 2007 Taipei Arts Festival, and was an official entry to the 4th CCP National Theatre Festival in Manila. In the same year, Felimon was also in My Sister…My Friend, a collaborative theatre workshop in Mumbai, India. His solo piece, The Last Tape, was performed as part of the "Waiting In The Wings" programme of the Cultural Center of the Philippines in 2006. In 2009, he performed his solo piece Lady from the City as part of ALSA BALUTAN: The 1st Philippine Monodrama Festival in Manila. That same year, Felimon also participated in Creative Lab, a presentation of eight solo works that were the responses by eight artists to Kuo Pao Kun's The Spirits Play - the inaugural play of the Traditions & Editions Theatre Circus (TETC), a theatre collective established by ITI alumni. He also performed in TETC's second production, The Juggler's Tale, featured as part of Esplanade's Studios series in 2011. In 2012, he performed in Luwasa Inahan, a devised environmental play as Philippine entry to Solo International Performing Arts Festival in Solo, Indonesia. In 2014, his dance theater piece Hugis, performed by Teatro Guindegan, was featured as the Philippine entry to the same festival. In 2016, his nonverbal play Patched, performed by Teatro Guindegan, was the Philippine entry to the 1st Ashirwad International Theatre Festival in Begusarai, Bihar, India. In 2017, his newest dance theatre piece Sinugdanan, performed by Teatro Guindegan, was also featured at SIPA 2017, Indonesia.
Off the stage, Felimon has also been a regular delegate to international programmes such as Asia Europe Foundation's "Health on Stage: 10th Asia Europe Young Volunteers Exchange Program" in Bangalore, India (2011), at Tokyo Performing Arts Meeting in Yokohama, Japan (2013), at the 20th Performance Studies International Conference in Shanghai, China (2014), and at the Abu Dhabi Culture Summit in Abu Dhabi, UAE (2019).
In 2013, the Provincial Government of Zamboanga del Sur awarded Felimon the Most Outstanding Zambosurian (Arts and Culture Category). In 2017, the Municipality of Tambulig also awarded him the Tambul Ni Ilig Award for Arts and Culture.
In September 2016, Felimon organised PARES: Mindanao Duo Festival, a festival for university/college-based theatre groups in Mindanao. In 2019, he also organized 1NNOSARA Mindanao Solo Performance Project, intended to showcase solo works of Filipino graduates of ITI.
Felimon is currently a Faculty Member (Journalism & Drama) at Jose Rizal Memorial State University (Dipolog). He has been elected as Head of the National Committee on Dramatic Arts of the NCCA for a 3-year term (2020-2022).


---
Recent works: 
1. Actor, ANG ALIMANGO, ANG BAO, UG ANG UNGGOY (2021, Teatro Guindegan – Culture and Arts Resources for Education (TG-CARE), The Japan Foundation, Manila, La Salle University, Arts and Culture Center and LSU Teatro Guindegan; Facebook Live)
2. Performer and Director, Senyor Erasmus (2021, LSU Teatro Guindegan for Asian Youth Theatre Festival 2021; Online)
3. Actor, KUTAY (2021, eKomunidad Asia Performance Festival, The Japan Foundation, Manila & Komunidad X; Online) 
4. Speaker, 3-day theatre arts workshop as part of Turo Sining (2021, National Commission for the Culture and the Arts & Department of Education Davao City Division; Online)
5. Performer and Director, Senyor Erasmus (2021, LSU Teatro Guindegan for Teatro Europa 2021; Online)
6. Performer, TAHANAN (2021, Japan Foundation Manila Center for Japanese Culture, Tanghalang Ateneo, Kasing Sining and Teatro Guindegan; Online) 
Last updated: 19 January 2022